&nbsp&nbsp&nbsp
ARCHIVES
>>>
12/2009
---
Rallying the Troops by: azreal
23.12.2009 22:30 GMT
---
Hello and welcome back to another update of Forgotten Hope. This week have many renders to show off, including the P-47 Thunderbolt, the M2A1 105mm Howitzer, and some more vehicles skinned in the Panzergrau paint scheme.
But before we start with the update, we'd like to welcome Guderian to the FH2 mapping team! Guderian created the map called Villers-Bocage of which we will show new screenshots later in this news update.
And then there's two announcements to make:
---
First of course, the holidays have arrived. The Forgotten Hope 2 Development Team wishes you happy and safe holidays!
---
Second, the 2009 Mod of the Year Awards are finally upon us. Last year, Forgotten Hope 2 made it to the second round of voting, but received only an honorable mention.
This year, armed with the recent release of version 2.2, we hope to take home first place! As only the first round of voting has started, you may vote for as many mods as you would like, however, if you register with the website, your vote will count even more. Click on the MOTY logo below to go to the Forgotten Hope 2 page, and cast your vote!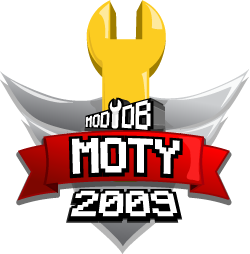 ---
To kick off this week's update, we have a brand new fighter plane for the Allied Air Forces. The Republic P-47 Thunderbolt.
The P-47 Thunderbolt was one of the biggest and heaviest single-engine fighter planes operated by the Allies during WWII. Nicknamed the 'Jug' because of its huge size, the P-47 first flew on the 6th of May, 1941. Weighing in at 9,900lbs, the plane was powered by a Pratt & Whitney R-2800 Double Wasp two-row 18-cylinder radial engine which produced 2,000 hp. It came standard with four .50 caliber machine guns on each wing, and could be loaded up with additional unguided rockets, bombs, and external fuel tanks.
The Thunderbolt, although effective in an air-to-air and escort role, earned its claim to fame destroying enemy ground forces over Normandy and the Pacific islands. The all metal hull of the plane allowed pilots to fly low and engage ground targets while braving anti-aircraft fire. From D-Day to VE Day on the 7th of May, 1945, P-47 pilots destroyed a total of 6,000 armored fighting vehicles. However, tanks and halftracks were not the only targets that fell victim to the Thunderbolt, trains, trucks, and enemy troops also claimed by these pilots.
The 'Jug' was extensively used by the Allied forces, especially during the later years of WWII. It was flown in every active combat theater by many air forces including the USAAF, the RAF, and the Red Air Force. In total, 15,686 P-47 Thunderbolts were produced, and the last of them, flown by the Peruvian Air Force, were retired in 1966. In addition to the standard fighter variant, players will also be able to find P-47s armed with 10x 5" rockets, or a single 500lb bomb. The P-47 Thunderbolt was modeled and skinned by Bender64 and coded by Gunnie.
---
Next, we have one of the most requested items since the initial Normandy release. The American M2A1 105mm Howitzer, and with it the 3-inch M5 anti-tank version.
The M2A1 105mm Howitzer entered production in 1941 and was the standard light field howitzer during WWII for United States military forces. It saw action in Europe against the German Wehrmacht, but it was against the Japanese Army in the Pacific that the howitzer earned a reputation for being accurate and hard-hitting. Capable of firing a wide variety of ammunition types, the M2A1 was able to put shells on target at a range of 12,200 yards (11,270 meters).
However the 105mm would not see action only as a field howitzer. The barrel of this powerful gun was mounted on many tracked vehicles as well, including the M26 Pershing, M24 Chaffee, and the M18 Hellcat, giving each tank a substantial upgrade in firepower. A mobile version of the howitzer was also engineered (M7 Priest), which served the Allies well across Africa, Italy, and Western Europe.
The 3-inch M5 on the other hand, was essentially a 76mm barrel mounted on the carriage of the M2A1 105mm Howitzer. This anti-tank gun was first produced in December of 1942 when the need arose for an even better weapon to destroy enemy tanks. This variant of the M2A1 Howitzer was issued exclusively to US tank destroyer battalions in 1943 and saw combat in both Italy and Northwestern Europe. The M2A1 105mm Howitzer and the 3-inch M5 anti-tank gun were both modeled and textured by Darren01.
---
Up next, we have a brand new map! Last week we had shown you a map that was originally created for the Forgotten Honor tournament. This week, we bring to you a map that was first created for use in the World at War tournament by Guderian. It has since then been tweaked and edited by Guderian and Natty Wallo. Without further ado...Villers Bocage!
"D-Day +7. The British are advancing toward Caen and are coming to a grinding halt by the elite German Panzer-Lehr Division at a town called Tilly-sur-Seulles. The British 7th Armored Division is ordered to flank southeast around the Germans through the town of Villers-Bocage and capture the high ground beyond, called Point 213. The British advancing through the area are being opposed by Michael Wittmann, commander of the 2nd Company in the 101st SS Heavy Panzer Battalion. Wittmanns orders are to position his unit behind the Panzer-Lehr-Division to cover their open left flank. At approximately 0900 hours, Wittmann's Tiger emerges from cover to the surprise of the entire advancing British column thus opening the battle for Villers-Bocage."
---
Finally we have some more vehicles that have been re-skinned in the Panzergrau ('armor gray') paint scheme. This week we have the 2cm Flakvierling 38, the Panzer II Ausf. C and 3.7cm Pak 35/36. These re-skins were once again done by Toddel.
---
That's all for this week, but be sure to come back next time for another update. Until then, feel free to visit our IRC channel and our public forums to discuss this update and other news.
Birthday at the Beach by: azreal
14.12.2009 21:00 GMT
---
Hello and welcome back to another update of Forgotten Hope. Today we will show off with a brand new map and some newly painted vehicles to go along with it!
But before all of that, we have a special announcement to make today. Today marks the 2 year anniversary since the original release of Forgotten Hope 2, version 2.0. By now, development of FH2 has spanned roughly 4 years, and is ever on-going, a creative product of dedicated developers, testers and individuals. However, this mod would not be what it has become without the support, love and loyalty of our fanbase. A big thank you goes out to our fans for making this one of the most played mods for Battlefield 2!
Now on to the update. First, we have some vehicles that have been re-skinned in a new Panzergrau paint scheme.
Panzergrau, translating to "armor gray", first came about in 1940, replacing an earlier two-color pattern. It was discontinued in 1943, but combat operational vehicles were ordered not to be repainted. Instead a layer of camoflage paste was laid over the Panzergrau paint to fit with the respective theatre of operations the vehicle was used in. These re-skins were done by Toddel.
Next we have brand new screenshots from another new map, Mount Olympus. Stepping away from the hedgerows of Normandy, players will find themselves fighting amongst the luxurious beaches and mountainous terrain of Greece. It is on this map that New Zealand troops will find the German vehicles in Panzergrau paint scheme.
Mount Olympus was originally created by Sorken and used in the Greek campaign of the Forgotten Honor tournament. It has since been edited further by Sorken for FH2 and cared for by many developers including Knoffhoff, Toddel, Fenring, and Natty Wallo. Now onto the map!
During the Balkans Campaign of WWII, the Fifth Yugoslav Army was tasked with defending parts of the northern Greek border, yet they were under equipped and lacked sufficient weaponry. After the German entry in to Bulgaria, most Greek troops were evacuated from their defensive positions. On March 28th however, two infantry divisions, the 12th and the 20th, were placed under command of a new general, General Wilson. The New Zealand division took up a defensive position north of Mount Olympus. With little support from RAF aircraft, and a shortage of tanks and anti-aircraft guns, the New Zealand troops would have to bear the brunt of the German attack head on.
For this map, Toddel also created re-skins for the Messerschmitt and the Stuka with camouflage and markings as they were seen over the skies of Greece.
That's all for this week, but be sure to come back next time for another update. Until then, feel free to visit our IRC channel and our public forums to discuss this update and other news.
10.12.2009 22:00 GMT
---
Hello and welcome back to another update of Forgotten Hope. It's been a while since our last news but we are back today with some new content to show you. But before we get started we would like to welcome Benseras to our development team, who is responsible for today's map, Operation Cobra.
First off we have the P-51D Mustang which was kindly donated by clivewil of the Allied Intent Xtended mod.
The P51D Mustang was perhaps one of the most well recognizable aircraft of the US military, and more so, the entire war. This iconic fighter plane was first introduced to the Royal Air Force in 1942 when the British government requested a new plane to be built by the United States.
The P-51 originally served a reconnaissance and escort fighter for British bombers, however it was not until the D version of the airplane was introduced in 1944 that it became so well known. Now powered by a British Packard V-1560 engine, and equipped with six .50 caliber M2 Browning machine guns, and a large assortment of bombs and air-to-ground rockets, the P-51D played a large part in securing air superiority for the Allies over the skies of Normandy.
P-51 Mustangs saw action all over WWII, and were flown by many countries as well, including the US, UK, France, and Australia. They were flown by the Allies right up until the end of the war, and in all, a total of roughly 16,000 P-51 Mustangs were produced.
Next up we have a bunch of new screenshots from the map Operation Cobra by Benseras. This map showcases the attempted breakout of Normandy after the initial D-Day landings, between the US 30th Corps and the German defenders.
"Having been stuck in the Bocage of the Norman countryside for almost two months, Allied forces made their move. All attempts by the British and Canadians to push out of Normandy had all but failed. It would be down to the Americans to push onwards and shatter the German lines in the West of the beachhead. After a severe carpet bombing, Operation Cobra would launch with the US 30th Corps moving on the town of Hebecrevon. Little did they know that the German defensive line of Panther tanks had survived the bombing intact and were waiting for them..."
---
World at War Tournament Advertisement
Presenting World at War's 20th Campaign
The World at War Tournament, powered by MyInternetServices.com, has been producing the best team play on the Battlefield platform for over seven years and is proud to welcome you to our 20th campaign. Featuring exciting custom maps created by our dedicated map team, new equipment, statics and a unique equipment loadout selection system, the 20th campaign shall be like no other before it.
The Axis war machine has activated the German 59. Kampfgruppe "Erzengel" to spearhead the assault on Europe. At the forefront of the Allied counter-attack is the American 60th Airborne Division "Screaming Eagles" which shall fight for every inch of ground. Each division is led by an officer corps of experienced WaW players that will train you to become part of a quality fighting force and give you the skills needed to be a future officer in WaW.
The World at War Tournament offers you:
Massive 11-hour 64-player engagements every Saturday. Fight when you want, for as long as you want.
Face the enemy on over 25 territories spanning across Europe and fight for total victory.
A new points system allows your division to select it's own custom equipment for each battle.
Start as an enlisted soldier and work your way up the historical ranks to fight and lead as an NCO or even an officer.
Gain authentic medals and badges as a result of your skill on the battlefield.
Communicate and coordinate with your unit and division using unique Teamspeak 2 technology.
Experience varied gameplay from infantry maps to full scale combined arms engagements.
Use new custom equipment and maps created by the WaW community.
It's completely free.
The World at War Tournament is a long standing tournament with a diverse community from across the globe. Friendly and welcoming, our members make it easy to integrate without the obligations of a clan. Experience a kind of camaraderie seldom found in gaming and an atmosphere that will keep you coming back for more.
---
That's all for now, but be sure to come back next week for another update. Until then, feel free to visit our IRC channel and our public forums to discuss this update and other news.