Hello and welcome back to another update of Forgotten Hope 2.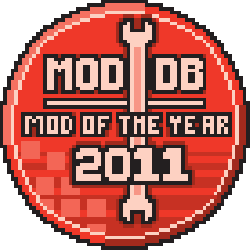 Before we get on with today's update, we'd like to remind everyone that the first phase of voting for the 2011 Mod of the Year (MOTY) competition has started. Be sure to head over to moddb.com and vote for Forgotten Hope 2.
This week we are showing off two tanks that have already seen combat with British forces, but have been re-fitted and re-painted for use by Americans in North Africa. They are the M3A1 Stuart and the M4A1 Sherman!
The British were amongst the first to use both the Stuart and Sherman tanks in combat during the battles of Operation Crusader and El Alamein. American tank crews would get their first taste of combat during Operation Torch, and would go head-to-head against the German Panzer III and Panzer IV. While this was often an even match up, it was the feared Tiger I that could inflict serious damage to a US armored company, and many times it took a strong combination of tanks, air power, and artillery to defeat them. The M3 Stuart and M4 Sherman would go on to serve both the British and American armies throughout the North African campaign until they were ultimately replaced by newer variants in 1943 and 1944. The M3A1 Stuart was done by Pointblank86. The Sherman was originally modeled by Omni, and was re-skinned for Africa by Pointblank86.
Our winner for this week's screenshot competition is MaJ.P.Bouras. You can view the winning submission here.
We are now accepting entries for the week of Dec. 4th. If you think you have the best FH2 screenshot, post them here.
On a final note, we'd like to let everyone know that we are once again looking for talented and dedicated individuals to join our team of developers. In particular we are looking for those who have experience creating 3-D, static models on the Battlefield 2 engine. If interested, please send an email to: fh2mod@gmail.com. Be sure to include your name, and a link to your portfolio.
---
That's all for this week, but be sure to come back next week for another update. Until then, feel free to visit our IRC channel channel, our public forums, and/or our Twitter and Facebook pages to discuss this update and other news.