Hello and welcome back to another update of Forgotten Hope 2.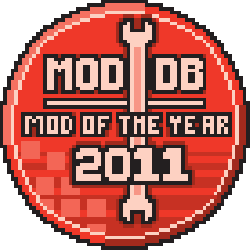 Before we get on with this week's news, we'd like to remind everyone about voting for Forgotten Hope 2 in the 2011 Mod of the Year competition. The month of December is half over, and the second phase is almost over. You can click on the MOTY image above to vote.
For this week, we are showing off one of the mainstay tanks of the US forces in North Africa; the M3 Lee!
The Medium Tank M3 was an American tank used during the early stages of World War II. Nicknamed the 'Lee' by the British after US General Robert E. Lee, the M3 served two primary purposes. First, it fulfilled the US Army's need for a good solid tank, and the British' need for an immediate delivery of 3,650 tanks. A combination of heavy armor, and a 37mm gun in the turret and a 75mm in the hull meant that the M3 was a good match for its German counterparts. However, the tank was not without its share of shortcomings. It suffered from a high silhouette, poor off-road performance, and its 75mm gun had a limited traverse. As soon as the M4 Sherman was available in large numbers, the Lee was withdrawn from service, but by then, 6,528 had been produced. The Medium Tank M3 'Lee' was made by Pointblank86.
Our winner for this week's screenshot competition is =Capten=Cymro=. You can view the winning submission here.
We are now accepting entries for the week of Dec. 11th. If you think you have the best FH2 screenshot, post them here.
On a final note, we'd like to let everyone know that we are once again looking for talented and dedicated individuals to join our team of developers. In particular we are looking for those who have experience creating 3-D, static models on the Battlefield 2 engine. If interested, please send an email to: fh2mod@gmail.com. Be sure to include your name, and a link to your portfolio.
---
That's all for this week, but be sure to come back next week for another update. Until then, feel free to visit our IRC channel channel, our public forums, and/or our Twitter and Facebook pages to discuss this update and other news.